Event Descriptions – 2017
---
Please check back in December for the 2018 Schedule
Join us for Fun Family Entertainment !
Opening Ceremonies  –  Center Hall Arena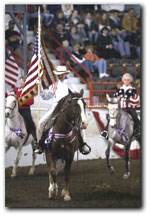 With a mix of horsemanship and patriotism, the Maryland Horse World Expo will open each day with the National Anthem, flags and a thrilling display of horsemanship.
– Friday,  12:05 pm
– Saturday, 9:05 am
– Sunday, 9:05 am
---
Trail Champions Challenge – South Hall Hall Arena


click banner to learn how to participate
Welcome to one of the most popular events at Horse World Expo, the Trail Champions Challenge.  The Challenge will be held at both the Maryland and Pennsylvania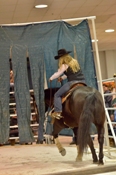 Horse World Expos and riders may compete at one or both locations.  In the Challenge, riders and their horse compete for cash and prizes by negotiating an exciting course of obstacles while being timed and scored by a panel of judges.  The professionally designed course will challenge the communication and trust riders have with their horse.  Watch as Horse World Expo crowns the next Trail Champion!
– Saturday and Sunday, 9:00 am
---
Equi-tainment!  A Musical E
quine Variety Show – Center Hall Arena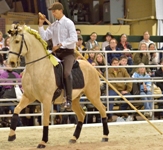 Come watch this family friendly entertainment segment of Horse World Expo highlighting the best of the best. Featured performances include drill teams, freestyle Dressage, Reining, tricks, bridleless riding and other exciting displays of horsemanship!
– Friday, 4:00 pm
– Saturday, 2:00 pm
– Sunday, 1:00 pm
---
Stars of the Thoroughbred Makeover
Meet the horses and trainers who traveled to Kentucky for the Retired Racehorse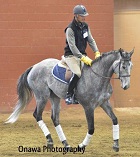 Project's $100,000 Thoroughbred Makeover. They all began life as racehorses but have launched new careers in ten English and Western riding disciplines. Each day of the expo they will showcase a different part of their extraordinary journeys. With 15,000 Thoroughbreds retiring from American racetracks each year you you may find yourself inspired to train your own horse for the 2016 Thoroughbred Makeover.
Steuart Pittman of Dodon Farm Training Center will provide commentary and interview the trainers as they perform.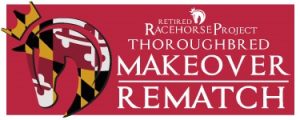 – Friday, 5:00 pm, South Hall Arena
– Saturday, 10:00 am, Center Hall Arena
– Saturday, 12:00 noon, Seminar Hall B
– Saturday, 3:00 pm, South Hall Arena
– Sunday, 2:00 pm, Center Hall Arena
---
Parade of Breeds  –  Center Hall Arena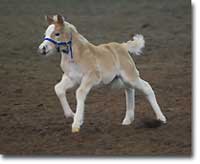 Exciting and educational demonstrations highlighting the versatility and beauty of the equine.  The demonstration will feature various breeds to be shown throughout the weekend. See the Breed Demo Schedule so you can be sure to catch your favorite breeds in
 – Friday, 12:15, 3:10 & 6:00 pm
– Saturday, 9:15 am, 12:10 & 6:00 pm
– Sunday, 9:15 am & 3:10 pm
---
Stallion Avenue Demonstration  –  Center Hall Arena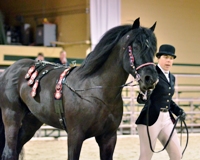 Stallion Avenue features a few of the area's top stallions.  A variety of breeds will be represented.  Each stallion will be shown in the arena each day. See Schedule
– Friday, 6:00 pm
– Saturday, 12:00 noon
– Sunday, 3:00 pm
Horses shown in photos are past participants and are representative of horses that may appear at the Expo