Speaker Details and Biographies – 2018
Great NEW Line Up of Guest Speakers (Partial list, check back for additions)
B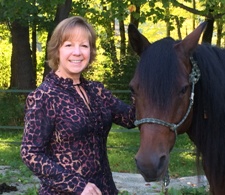 Joyce Belcher
Herbs for Life, Inc. booth 317
– Schedule Coming Soon!
Biography
Joyce Belcher (Anaplasma, Lyme) – Joyce Belcher is a certified herbalist-formulator specializing in organic medicinal formulations for animals. She resides in York, ME and is the founder of Herbs for Life, Inc., manufacturer of the Pet Wellness Blends™ and Veterinary Botanicals™ product lines. Ms. Belcher has spent years advancing her herbal studies, mentoring with several highly-respected experts in the field of veterinary herbalism. Her areas of expertise include immune balance, the prevention and treatment of Lyme disease in dogs and horses, and custom medicinals in veterinary herbalism. In her practice, Joyce Belcher formulates herbal medicine and supplements for holistic and integrative veterinarians and educates animal owners to be proactive in caring for the health of their animals. She helps owners make informed decisions by speaking to groups through equine and canine symposia and working dog foundations and is a columnist for Dog's Naturally Magazine. She also teaches western herbs for animals to herbal apprentices at herbal schools in New England.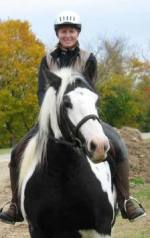 Susan Berger
Camp Hebron booth 521
– Schedule Coming Soon!
Biography
Susan Berger (Novice Rider Programs for Rider & Instructor) – is a CHA Certified Master Instructor and All Discipline Standard Clinician. She has been teaching group, semi-private, and private riding lessons for over 30 years. She comes from a competitive show background with Arabians, and has also provided the platform for youth and adult showing on the local level. Susan has worked at Camp Hebron Meadowview Stables for the past 20 years. Camp Hebron has a year-round program that provides quality horsemanship through summer camps, multi-discipline riding lessons for competitive and recreational riders, and guided trail rides for novice and beginner riders. An educational program that provides Girl Scouts and Boy Scouts an opportunity to work on merit badges is also a popular program. Susan has pioneered a program of bringing in "throw away" horses that are no longer considered valuable, rehabilitating them physically and emotionally, teaching them how to work through their trust issues, and then connecting them with children and youth through "at-risk" youth programs such as Yellow Breeches, YMCA and private organizations. One of her projects is a horse named "Matthew" who is the CHA Stone School Horse of the Year for 2017. Susan brings a fresh perspective on how to provide a safe, fun, and effective riding lesson to riders that is both interactive and educational.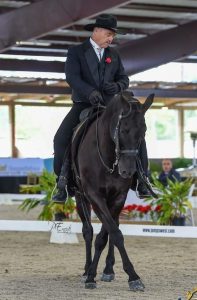 Randy Byers
Hybrid Horsemanship booth 424
– Schedule Coming Soon!
Biography
Randy Byers of Hybrid Horsemanship (Working Equitation, Trail Champions Challenge Course Designer) – is a Masters level Working Equitation competitor and travels nationwide showing and instructing. He lives and trains in Aubrey, TX in the heart of horse country. Randy has won several Regional titles as well as a US National Championship in WE. His latest accomplishment has been the development of an innovative online educational resource. Working Equitation University (WEU) was launched in December of 2016 and has had tremendous success. Randy's greatest passion is the development and expansion of WE in the US and hopes to inspire fellow enthusiasts. Come join Randy in 2018.
F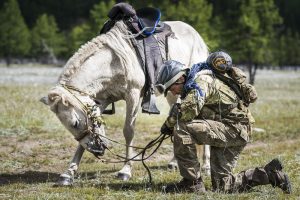 Tim Finley
Captain, USAF, Colorado Springs, CO
– Schedule Coming Soon!
Biography
Tim Finley (Endurance, Inspirational Tales) – is a 17-year combat-decorated Air Force Captain who leads the Air Force's elite Tactical Air Control Party (TACP) airmen into the most contested battlefields and engages the enemy directly with air strikes. Billed as "Warrior. Writer. Dragon tamer," Captain Finley's harrowing story through the Mongol Derby was featured across the globe in international news. He is the author of the upcoming book, "To Live With Honor" and spreads his message of courage and perseverance to audiences all across the US. Captain Finley continually fund raises for his charity of choice, Heroes and Horses, in Montana, an equine assisted therapy program set on reforging our nation's warriors hardest hit by combat.
G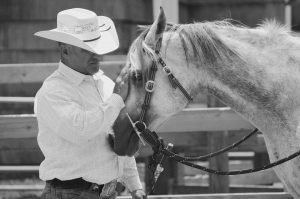 Sonny Garguilo
Sonny Garguilo Natural Horsemanship booth 420, 421
– Schedule Coming Soon!
Biography
Sonny Garguilo (Natural Horsemanship) –  was born in Brooklyn, NY, the furthest place from a horse. At an early age he discovered a true love and respect for the horse. Being influenced by some of the greatest horseman such as Ray Hunt, Bill and Tom Dorrance, John and Josh Lyons, and Tommie Mack Turvey.
Sonny Garguilo spends most of his time training horses and helping to build a bridge between horse and rider. He will be the first to tell you that his greatest teacher is the horse. His ability to communicate with the horse in a gentle, non-aggressive way is what makes his training so effective and sought after. Sonny has been a featured clinician at some of the largest expos in the U.S. such as Horse World Expo, Equine Affair and also the Mane Event in Canada.
Sonny has also been a chosen competitor in three Extreme Mustang Challenges in which trainers were given 100 days to saddle and eventually compete with that horse. In 2012 Sonny Placed 1st out of 43 horseman, winning the trail class! In 2013 Sonny also placed 2nd in the compulsory and placing fourth overall out of 38 horseman!
Sonny Garguilo is the only Natural Horseman in the thirty three-year history of the prestigious Hampton Classic to be invited to do an opening day demonstration, not once, but twice. Today Sonny Garguilo travels the United States as a guest speaker, demonstrator and featured clinician for some of the largest expos in the country.
Sonny also spends time holding teaching clinics to help the horse and human build a lasting relationship. Sonny is the Author of his top selling book, "SONNYISMS, The horse Lovers Guide to Common Sense". For three years, Sonny hosted the number one Horse talk radio show in NY, "Horsin' Around Naturally". This past October, Sonny represented the United States in an international colt starting competition. Given 3 hours to start a young colt under saddle and ride through an obstacle course against Glen Stewart from Canada and David Simons from Australia.
Along with his partner the "Amazin Sis", Sonny will continue to educate and inspire to make the world a better place for the horse.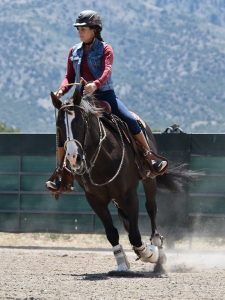 Julie Goodnight
Goodnight Horsemanship  booth 612, 613
– Schedule Coming Soon!
Biography
Julie Goodnight (Western & English Horsemanship) – is the popular RFD-TV host of Horse Master airing Monday nights. Julie travels the US sharing her no-nonsense horsemanship training with riders of all disciplines. Whether you ride English, Western, dressage or trail ride, Julie's teaching helps you feel more confident in the saddle and helps you understand the "whys" of horsemanship. You'll get horse training help, when you need it. She loves continually learning and sharing horse behavior insights and she relates that knowledge to how you should interact with your horses.
She's experienced in dressage and jumping, racing, reining, cow horse, colt-starting, and wilderness riding. You've probably seen her regular series in Horse Illustrated, The Trail Rider and many other horse publications. Julie is honored to be the International Spokesperson for the Certified Horsemanship Association and was named Equine Affaire's Exceptional Equestrian Educator.
Julie grew up on the hunter-jumper circuits in Florida, but is now at home in the west. She and her husband Rich Moorhead live in the mountains in Salida, Colorado. Both love versatility ranch horse competitions and riding cow-horses.
H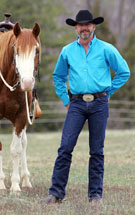 Kenny Harlow
Training with Trust booth 315, 316
– Schedule Coming Soon!
Biography
Kenny Harlow (General Training, Problem Solving) – is a true horseman sharing his "Training with Trust" methods and gaining astounding results with horses and students alike. Kenny is a graduate of John Lyons' very first certification program and he has continued his education and training under top trainers in the disciplines of dressage, hunter/jumper, eventing and reining. He has been featured on national television shows including Hard Copy, and the NBC weekend Today show. Many newspapers and horse publications, such as Horse World Magazine, Equine Journal, and Chronicle of the Horse, have featured articles on Kenny's training methods. His specialty is working with problem horses and starting unbrokes. He proves that clear communication and patience is the key to solving the most difficult of problems.
Kenny resides in Cumberland VA, and continues to teach a yearlong certification program, apprenticeship programs, horses and rider training vacations, as well as traveling the east coast teaching 5 day riding clinics. Together with his new paint gelding "Justin" they continue to encourage horses and students alike to become partners through safe, effective techniques that bear results. His revamped exercises make training faster and allow a solid understanding of a firm training foundation.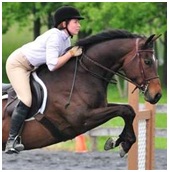 Sandy Hart-Long
FICS of Maryland. Inc. booth 422, 423
– Schedule Coming Soon!
Biography
Sandy Hart-Long (Arena Solutions) – With extensive experience as a rider and judge, along with over 15 years in the footing industry, Sandy Hart Long brings a comprehensive perspective to the topic of Arena Footing. She has personally advised hundreds of clients on arena construction, footing selection, and arena maintenance, ranging from backyard enthusiasts and beginner riders to large-scale commercial facilities and Olympic champions.
J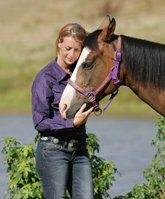 Tara Jones
Pieceful Solutions booth 308
– Schedule Coming Soon!
Biography
Tara Jones (General Horsemanship, Problem Solving) – has trained and started horses for 10 years. Tara is a certified Kenny Harlow Trainer, has worked under many other trainers, and has traveled to Australia to assist Jose Mendez. She started her own Intensive course with 4 levels of training for students to become certified under her training methods and teaches clinics on the East Coast, specializing in the rider's body position and the horse's fine tuning to bring together the whole package. Tara has written four training manuals and is currently working on her own book on riding positions due to be out in the Fall of 2012. She rides all disciplines from western trail to upper level dressage and jumping and is currently coached by 1984 Olympic alternate Kim Walnes. While Tara assisted Kenny Harlow for many years at the horse world expos, she also participated in most of his demos. She has developed her own teaching and training style since being her own. Tara has performed demos at several area horse expos for the past two years and participated in the all women's trainer challenge in Doswell, Va.
K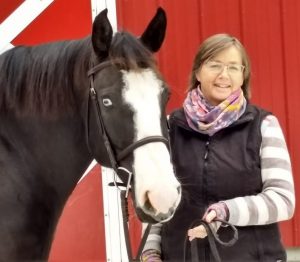 Laura Kelland-May
Thistle Ridge Equestrian booth 519
– Schedule Coming Soon!
Biography
Laura Kelland-May (Hunter, Jumper, Equitation) –  is very active in the horse industry and is a USEF "R" Judge (Hunter, Jumper and Equitation) as well as Equestrian Canada "S" Judge (Hunter, Jumper, Equitation and Hack) and Senior Steward. She continues to develop horses and riders and is the founder of "Equestrian Skill Builders series of Horse Show Clinics".  Laura is moderator of the monthly Jumping Instructors Webinar and Dressage Instructors Webinar and is a freelance coach, working with horse professionals incorporating many breeds and disciplines.
L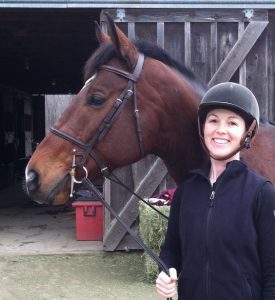 Nettie Liburt, PhD, PAS
BUCKEYE Nutrition booth 1426
– Schedule Coming Soon!
Biography
Dr. Nettie Liburt, PAS (Equine Nutrition) – is the Senior Equine Nutrition Manager at Mars Horsecare US/BUCKEYE® Nutrition where she helps develop new products, trains associates in equine nutrition, and works with the company's UK-based team at the WALTHAM® Centre for Pet Nutrition on developing and implementing research protocols. She holds a Master's and PhD in Animal Science from Rutgers University. Dr. Liburt is a member of the Equine Science Society, is a registered Professional Animal Scientist (PAS), and has an Appendix gelding named "ET" that she occasionally competes in the hunter divisions.
M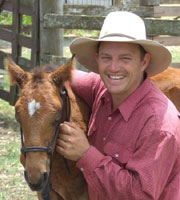 Guy McLean
Horsemanship with Guy McLean booth 110-112
Theatre Equus Performer
– Schedule Coming Soon!
Biography
Guy McLean (General Training, Theatre Equus Performer) – is a self-taught Australian Horseman who has entertained, inspired and educated thousands of Australians from all walks of life. Guy arrived in the USA in June 2010 with his four Australian bred Horses and commenced his USA-wide tour.
Since 1999, Guy and his equine team led by Nugget (the father of Guy's 3 Dun Horses) have been featured in many Australian events including: Royal shows, Equitana Asia Pacific, major equestrian festivals, international rodeos and Australia's famous "Man from Snowy River Festival". One of Guy's talents is bush poetry and he has twice been crowned Australian Bush Poet Champion.
In 2002 and 2006 Guy received the great honor of being named an official 'Ambassador of the Outback' and through his performances of horsemanship, bush poetry and whip cracking he has helped to keep the traditions of the bush and the true Aussie Stockman alive. In 2005 Guy was the inaugural winner of Equitana's, 'Way of the Horse' young horse starting competition and it was the methods he learned in the Queensland bush under the watchful eye of many a young horse that brought him victory.
Since being in the USA, Guy and his equine team have had the honor of performing at the World Equestrian Games 2010 held in Lexington, KY, as a nightly pre-show performer at the National Finals Rodeo 2010 in Las Vegas and at many other events near his home base of Allen, Texas.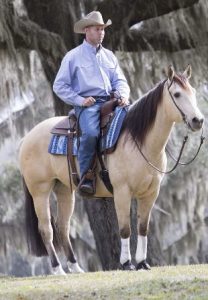 Cal Middleton
Cal Middleton Performance Horses booth pending
– Schedule Coming Soon!
Biography
Cal Middleton (Western Performance, Reining, Working Cow Horse)  – has ridden and worked with some of the best horsemen in the country today. Because of hard work, passion, and perseverance, he is now one of them. Cal competes at the top shows in the country where he has won a world title in reining as well as placing top 5 in working cow horse. He has competed and won titles in dressage, cutting, roping, ranch pleasure, western dressage, and many other events.  Cal is an Author, NRHA Judge and Top Clinician who knows how to reach horses and people. His brand of teaching helps students learn how to get more out of their riding, gain confidence and understand what is really going on with their horses.  Cal Middleton also works with children with behavioral needs, and much of what he's learned with horses he translates into helping those children improve their lives.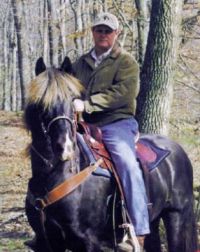 Dr. Dan Moore
The Natural Vet booth booth 248
– Schedule Coming Soon!
Biography
Dr. Dan Moore (Natural Equine Healthcare) – graduated with honors from Auburn School of Veterinary Medicine in 1980. He completed the Professional Course in Veterinary Homeopathy and the Advanced Course in Veterinary Homeopathy and is currently completing requirements for certification in the Academy of Veterinary Homeopathy.Dr. Moore is a practicing holistic veterinarian known as the Natural Horse Vet or simply "Dr. Dan" by most. He has been featured on RFD TV's "Ask Dr. Dan" series as well as the Outdoor Channel. He is founder of The Natural Horse Vet, an online source of information, products, and services about natural alternatives. He has formulated dozens of products for people, pets and horses. His mission in life is to find alternatives to drugs and chemicals for people, pets, and horses. Controversial yet cutting edge information that you don't want to miss.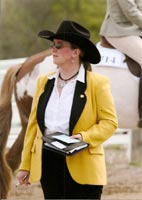 Jennifer Moshier
New Horizon Equine booth 419
– Schedule Coming Soon!
Biography
Jennifer Moshier (Western/English Performance) – Jennifer is a career horsewoman with more than 30 years of experience as a competitor, trainer, clinician and judge. During her career she has trained and shown a great variety of breeds from Arabians, Morgans, Saddlbreds and Tennessee Walking Horses to Quarter Horses, Appaloosas and Hunters. She holds judges cards with 6 different national organizations (PtHA, USEF, POAC, ABRA, GVHS, and NWHA), is an approved 4-H judge in more than 10 states (Ohio, Florida, Michigan, Indiana, Kentucky, Virginia, South Carolina, Pennsylvania, New York and the New England States) and has judged more than 500 shows ranging from 4-H and schooling hunter shows to world level competition. Jennifer holds an AAS degree in Saddlehorse Management and Production at The State University of New York at Morrisville.
As a youth, she participated for many years in 4-H and, as an adult, she has been an active supporter of this worthwhile youth organization at both the local and state levels. She serves on the Ohio State 4-H Judges Committee and aides in the development of clinics to educate youth as well as the state's 4-H judges. As a 4H Judge, she is well known in the Maryland area as a repeat judge for the Maryland State Fair 4H Horse Show. Jennifer is an internationally recognized clinician having served as a featured presenter at various expos, POA National Convention, as well as numerous clinics from day long 4H events to breed club hosted weekends. She is known for her "Show and Tell" style which is a judged show with personal critique over the PA system, as well as the "Ready Set Show" format, styled for beginner to intermediate level exhibitors in a variety of topics from showmanship to pattern classes such as equitation, horsemanship, trail, western riding and over fences classes. Between judging commitments, Jennifer coaches a select group of clients in central Ohio from 4H level to AQHA Congress Finalists.
P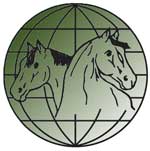 Pennsylvania Equine Council / Penn State
– Schedule Coming Soon!
Biography
Various Clinicians to be announced soon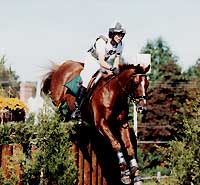 Steuart Pittman, Jr.
Retired Racehorse Project booth S13
– Schedule Coming Soon!
Biography
Steuart Pittman, Jr. (Eventing, Retired Racehorse Project) – operates Dodon Farm Training Center in Davidsonville, Maryland, where he trains horses and riders primarily for eventing, but also for other English riding disciplines. The farm maintains a stable of 25 horses in training.
Steuart evented through the advanced and CCI*** levels, showed dressage through fourth level, spent many years in the show ring and hunt field, and is Maryland's first U.S. Eventing Association certified instructor. After having served as president of the Maryland Horse Council and as the national campaigns director for a grassroots network of community organizations, Steuart was well-prepared to launch the nonprofit Retired Racehorse Project (RRP) in 2009.
RRP organizes the annual $100,000 Thoroughbred Makeover at Kentucky Horse Park, manages a website that features horse listings, bloodline brag, how-to articles and videos, and maintains a directory of 300 farms and organizations that work with these horses. RRP is a membership organization that offers Off-Track Thoroughbred Magazine, discounts from sponsors, and other benefits.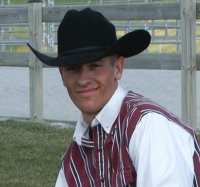 Scott Purdum
Advantage Horsemanship booth 318-320
– Schedule Coming Soon!
Biography
Scott Purdum (General Training) – has owned, ridden, and worked around horses all his life. He started riding at age 3 and immediately his parents recognized his love and natural abilities towards these animals. A few months after he had been taking lessons under the guidance of his trainer Jill Price, Scott became anxious to get his own horse. After a brief search Scott picked out his first horse which his parents purchased for him. Scott began his show career at age 6 and has continued riding and showing hunters and pleasure horses since. He attended the University of MD for 1 year as a student in their Equine Management Program. He also worked as an intern with a top rated Quarter Horse trainer, Ken Adkins, in West Virginia, whom he also assisted at the AQHA Congress in Ohio. Scott has dedicated himself recently.
S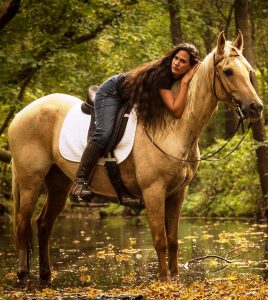 Ivy Schexnayder
Ivy's Glide Gait booth 614
– Schedule Coming Soon!
Biography
Ivy Schexnayder (Gaited Horses Naturally) – lives in Winslow, Illinois.  Her dream has always been to help gaited horse owners get a smooth gait with their horses.  Ivy has been training gaited horses for over 12 years. She started out with the idea that you could train any gaited horse to gait on a loose rein, preferably with a snaffle, simple bitless bridle or hackamore. She traveled around the country and was able to work with over 90 different horses! That experience taught her so much. She learned that most horses respond the same way, no matter what the breed, but some need just a little bit of something extra to get the smooth natural gait.  That something extra?  Lateral work and relaxation!  Most horses will start gaiting in as little as 3 one hour lessons!   Ivy combines trick training, natural dressage, classical dressage, endotapping, and clicker training to work with her horses. The tricks are fun to teach and they help develop your relationship with your horse. The dressage methods can help strengthen, supple, and improve your horse's movement and balance. Clicker training has made it fun for her and the horses to go out and work together.  Let Ivy show you how to get your Gait, Naturally.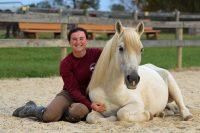 Leigha Schrader
Days End Farm Horse Rescue booth S16
– Schedule Coming Soon!
Biography
Bio coming soon.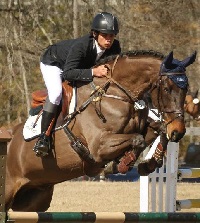 Dom Schramm
Don Schramm Equestrian
– Schedule Coming Soon!
Biography
Dom Schramm (Eventing) – At 27, Australian eventing rider Dominic Schramm already has international riding experience that sets him apart from many of his peers. A dedicated and determined athlete, Schramm has demonstrated that he is prepared to do what it takes to improve his skills and fulfill his desire to reach the top of his sport.
Hailing from the small outback town of Charleville, Australia, Dom developed an affinity with horses from a very early age. This 'country' influence is evident in his training approach and horsemanship today. Building on this background, Dom's passion for eventing has taken him all over Australia as well as to equestrian hubs around the globe, including the United States, England and Germany. He has already been recognized by national selectors and was a member of the 2006 Australian Young Rider Eventing Squad as well as having experience at the three star level. Dom developed as a rider under the guidance of recent WEG competitor Christopher Burton for whom he worked as a working student for 2 years. A brave and hungry competitor, Schramm also possesses the patience, experience and knowledge to very competently start horses from the ground up.
Seeking a more internationally competitive atmosphere, Dom made the decision to relocate to the US in late 2010. Since then, he has already begun making an impression in US eventing circles for his riding ability as well as his enthusiastic and fresh teaching style. Aboard his new ride, experienced eve tear Cold Harbor, Dom successfully campaigned him through 2013 and achieved a noteworthy result at the Fair Hill CCI** in the fall. 2014 has seen Dom return to the 3 star level and his main priority is to navigate Cold Harbor to Rolex 2015 and strengthen his string of competition horses.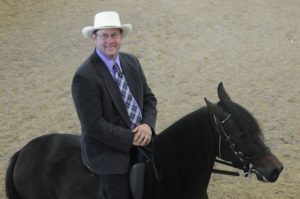 Rick Shaffer
Mason Dixon Paso Fino Horse Assoc. booth B11
– Schedule Coming Soon!
Biography
Rick Shaffer (Trail Horse Test Program)is the full time trainer at R&S Paso Fino Stables. Rick is a unique horse trainer who brings out the best in horse and rider.  Horses respond to Rick's compassionate, patient and consistent training methods. Owners feel very comfortable with Rick's unhurried, individualized instructions.  Rick's teaching ensures that owners have the skills and confidence to build and maintain the all-important bond with their horses which will serve them well in all equine pursuits. Rick is a recorded USEF judge, certified judge for the Paso Fino Horse Assoc., equine clinician who tailors clinics for clients, Paso Fino professional trainer and 4-H Leader.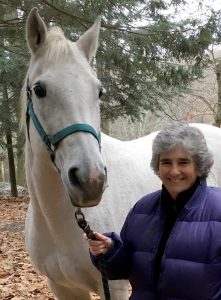 Margaret Stewart
Herbs for Life, Inc. booth 317
– Schedule Coming Soon!
Biography
Margaret Stewart (Holistic Equine Health Care) – is a Certified Animal Acupressure Practitioner (CAAP) in all levels for both large and small animals, a Certified Equine Massage Therapist (CEMP), a Certified Equine Craniosacral Therapist (ECST) and a Medical Qi Gong Instructor and Practitioner. She has also completed study in Bach Flower Essences, The Masterson Method, Spiritual Response Therapy and several Traditional Chinese Medicine (TCM) modalities. Margaret lives in Connecticut where she has an animal practice, doing both hands-on and distance work.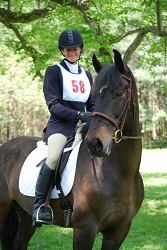 Sara Strauss
Days End Farm Horse Rescue booth S16
– Schedule Coming Soon!
Biography
Sara Strauss (Rescue Horse Training) – In 2008, Sara joined Days End Farm Horse Rescue (DEFHR), in Howard County, Maryland, the nationally-recognized, 58-acre facility for abused and neglected horses. Having earned her B.S. in Animal Science from the University of Maryland, she came to DEFHR already an accomplished rider and trainer with a background in Dressage and Natural Horsemanship. She brought to DEFHR a wealth of knowledge using a variety of training techniques and from her experiences under several trainers.
Sara's presence was felt almost immediately at DEFHR as she works with the 50-70 horses that are under the farm's care at any given time. All horses progress well under Sara's improved program and adoption numbers have steadily increased. In early 2009, Sara broadened her experience by completing an apprenticeship with Kenny . In addition to working with Harlow, Sara has also worked with well-regarded trainers Tara Jones, Scott Purdum, David Beard, Charlie Powers, Craig Cameron, and Julio Mendoza. She continues to interact with these and other experienced trainers to ensure her professional development and the quality of DEFHR's rehabilitation program.
T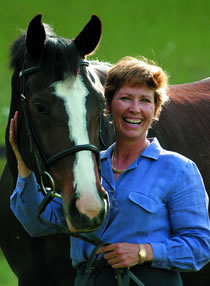 Randi Thompson
Horse and Rider Awareness booth 518
– Schedule Coming Soon!
Biography
Randi Thompson (Dressage, Equine Business) – is the CEO of the "Horse and Rider Awareness Educational Programs," which include, "How to Market Your Horse Business", "Jumping Instructors", "Dressage Instructors", and "Movers and Shakers of the Horse World". She has been coaching professionals in the horse industry for over 25 years in horse and rider training, business, and marketing. Randi has worked with many breeds of horses and styles of riding in her career and has produced national winners in the worlds of dressage, hunter/jumper, western pleasure and flat shod Walking Horses. Randi is a Certified Horsemanship Assn. Master Instructor and Clinician and is available to come to your location for clinics and instructor training. For more information on how Randi can make a difference for you, go to http://www.horseandriderawareness.com.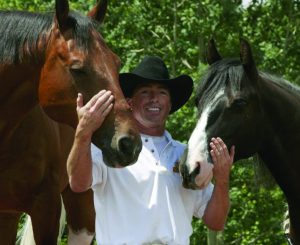 Tommie Turvey
Booth 114-116
– Schedule Coming Soon!
Biography
Tommie Turvey Jr. (Trick Horse Training, Theatre Equus Performer) – is a life-long hands-on horseman. He travels the world performing in front of hundreds of thousands of people each year with his unique style of horsemanship. Tommie performs his signature acts to sold out crowds at hundreds of the biggest shows in North America.  His bay and white American Paint Horse, "Pokerjoe" is the star of the outfit. He is well known for his comedy antics as the "upside-down horse" and is the most memorable and requested equine act in the business. In 2009, Pokerjoe was immortalized as a Breyer® Horse model. Tommie's black and white Paint Horse, Joker who is the work horse of the bunch was cast as the Breyer® Celebration Model Horse in 2006. Joker's younger brother, Ace is the lover of the group who will steal your heart with his soft gentle eyes. "Blade" is a rescued red roan Mustang which Tommie has partnered with his faithful dog, Maverick a Red Queensland Heeler.
In addition to being a top entertainer, Tommie puts his methods into practice as an exciting and entertaining clinician with his no-nonsense training ideals. He is the most versatile horseman in the industry and you can see the results of his training every time he performs with his horses. He gets the most out of them through consistency, discipline and respect. Tommie says "The key in getting your horse to doing anything correctly is consistency in training and day to day contact. It's not magic like most people want you to believe. It is understanding and the quality, not quantity of training. People think I train my horse for hours on end and it's quite the opposite. I train people to think in small steps and how to get on the horse's level." As a professional stuntman and stunt coordinator, Tommie appears with his horses in the upcoming movies "Jonah Hex" and "the Greening of Whitney Brown" and the can be seen in the recent blockbusters "Batman: Dark Night", Larry the Cable Guy's "Witless Protection" and HBO's award winning mini-series "John Adams".  Tommie's horses have made many appearances on the hit TV series "The Walking Dead" as well.
As an owner of over 20 horses from Paints, Pintos, Quarter Horses, Haflingers, Trakehner, Rocky Mountain Horses, an American Cream Draft, and Mustangs, Tommie enjoys working with them all. He has dedicated his life to bringing the power and beauty of the horse to the forefront through entertainment and inspiring demonstrations. In addition, Tommie helps teach people how to create a special partnership with their horses with real world exercises and training programs. "It's not about the tricks, it's about getting you and your horse to a higher level and having fun while doing it." Tommie knows that the average person doesn't have all day or years to train their horses. They want to start enjoying them now.
W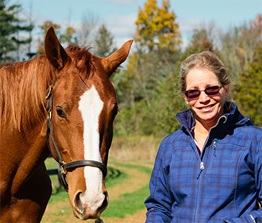 Tracy Wagner
Tracy Wagner Eventing
– Schedule Coming Soon!
Biography
Tracy Wagner (General Training) – is a life-long hands-on horsewoman and highly respected professional horse trainer, specializing in helping horse people with real everyday issues through a back to basics approach that is often missed. Her holistic approach to riding and training is based on her deep intuitive understanding of the multi-faceted relationship between the mind and body of both horse and rider and her unique ability to communicate that understanding to her students.
She encourages her students to "think outside the box." She teaches horses to be calm, confident, and workmanlike, while also addressing the horse's questions of motion, balance, resistance, momentum and friction while attempting to carry a rider. Tracy uses a combination of natural horsemanship, classical dressage, trick training, bridle-less riding, liberty work and more to create willing partnerships with her horses.
As a certified master instructor she currently gives clinics and instruction to a variety of students from different back grounds – from the weekend trail warrior, to the competitor with a nervous horse; riders of all ages, interests and ability levels. Her lessons are built on the concept of confidence building and keeping things "interesting" to achieve not only safer riding, but also for better performance in the competition arena.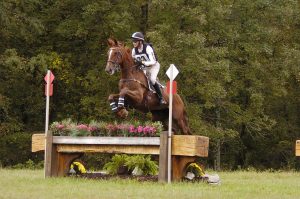 Danny Warrington
LandSafe Equestrian booth 620
– Schedule Coming Soon!
Biography
Danny Warrington (Eventing, LandSafe Method) – was born in 1969 at the Camp LeJeune Marine Base in Jacksonville, North Carolina. A unique and well respected character, Danny has a refreshing outlook on his education.  Danny has spent much of his life trying to learn from the best. In his racing years he spent time with hall of fame trainers Jonathan Sheppard and Mikey Smithwick as well as Janet Elliot. When it came to eventing the same approach was taken riding only with the best, Bruce Davidson and Karen O'Connor , Jimmy Wofford and Phillip Dutton they were all very helpful in his transition from jockey to 3-day eventer. Having known Danny from his racing days they were very enthusiastic to help him make the change. The long list of dressage help that he has encountered rings such names as Linda Zang, Todd Flettrich, Mara DePuy, and Donnan Sharp. All of the above have too many credits to list. Danny has been very fortunate to gain what he calls an Ivy League education over the past several decades.
Following on from a comprehensive education and becoming not a 'Jockey' or an 'Event Rider' but a Horseman, Danny started to specialize in the discipline of Eventing. It was in this sphere that Danny achieved what is his career highlight. He won the Amanda Warrington Cup at Groton House which is held in memorial of his late wife. Danny had left the world of horses for a few years, and upon deciding to return he bought a horse called Discover The Power as a re-sale project. He started to ride him at the prelim level, and subconsciously set himself the aim of winning that particular event. Against the odds, he claimed the emotional victory as his own, and believes that it is and always will be his single greatest achievement. Not only in horsemanship, but personally, it was far more than a competition win, it was an emotional victory.
From national championships and FEI competitions all the way to beginner novice, Danny has not only ridden himself, he has helped every level of rider, from D rated pony clubbers all the way to helping them achieve their AA, adult amateurs and Pros as well. From educating two year olds for hall of famer Allen Jerkins as well as the legendry Jim Lewis, to starting dressage horses, most notably a four year old by Gribaldi sire of the great Moorlands Totilas.  Danny has also helped top trainers like JJ Tate and Kentucky Derby winning trainer Michael Matz.  Warrington Eventing has produced and imported top eventers, hunters, and thoroughbreds for some of the best names in equestrian sports.  Not only was Danny a top steeplechase jockey in the U.S. he has also become a top level eventer and trainer of not only horses but riders; all winning and competing in multiple disciplines of the equestrian world.
When not in the barn, teaching, riding, doing a clinic or fixing a problem horse, you will most likely find him on the water.  Danny has his captain's license; he was a saltwater guide and spent some time as a dive instructor in the islands. One way or another he is enjoying life and the outdoors with his wife Keli and friends. Often in the summer his students not only learn to ride and all around horsemanship, most of them will learn to wakeboard and fish, he wants everyone to share his passions!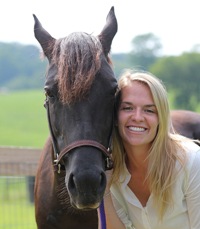 Nicky Wetzelberger
Days End Farm Horse Rescue booth S16
– Schedule Coming Soon!
Biography
Nicky Wetzelberger (Youth Rider Activities) – was born on a small farm in Maryland and grew up in an animal-loving family. From a young age, she learned the importance of opening her home and her heart to animals in need. After college, she lived abroad, where she saw countless animals in distress, and set a goal of going into animal rescue when she returned to the U.S. During her time overseas, she taught at international schools and also spent time teaching children in afterschool centers. She worked as the volunteer and outreach coordinator at a humane society in Maryland before finding her way to DEFHR where she works today as the Community Outreach Director. She is passionate about being part of the solution to a problem through teaching, animal welfare and volunteerism.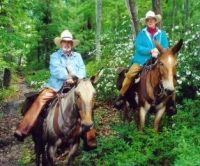 Bud and Gwen Wills
Pennsylvania Equine Council booth 212-214, 235-237
– Schedule Coming Soon!
Biography
Bud and Gwen Wills (Horse Camping and Trail Riding) – Bud and Gwen grew up on the back of a horse. Bud spent about 20 years raising, training and showing Arabian horses. He also judged various breed shows and was active in 4 H work in Pennsylvania. In recent years, Bud worked as a licensed horseback big game hunting guide in the northern mountains of New Mexico.
Becoming concerned about the loss of public lands to the equine user across the country, Bud and Gwen got involved with the Pennsylvania Equine Council, PEC. The PEC is a grass roots volunteer organization that represents the equine owners in Pennsylvania. Bud serves as the State Trail Chair for the PEC and Gwen as the Trail Stewardship Program Director.
No longer involved in showing they have enjoyed trail riding throughout the country. They ride and pack mules using their mules as part of educational programs and to do trail maintenance by packing gravel, tools and materials for a more land friendly approach to trail work. Both Bud and Gwen are Leave No Trace, LNT masters. Traveling throughout Pennsylvania, surrounding states as well as national Trail Conferences they present LNT/ Ride Smart land ethics and out door skills programs.
Through the PEC they have developed a Trail Stewardship Program. The various educational programs are being accepted by the State and Federal agencies as one means of keeping Public Lands open to the public. This involves trainings for both volunteers and agency personal.
By combining years of experience Bud and Gwen also present trail user programs, which suggests a common sense approach to the use of equine in the trail setting. From planning your excursion to tack and equipment suggestions to make your ride a good experience for you, your equine of choice as well as others you may meet on the trail.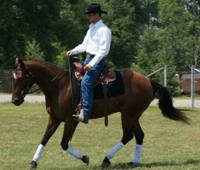 Brendan Wise
Modern Teacher of Classical Wisdom booth 424
– Schedule Coming Soon!
Biography
Brendan Wise (Classical Dressage) – has been playing with horses since a young child and has always had a love for the horse greater than anything else in this world. He has devoted his life to the study and the teaching of Horsemanship in the Classical Tradition. Brendan has spent years learning from many disciplines including Natural Horsemanship, Dressage, Reining, and Racing. He has combined his experiences and successes in all of these disciplines, as well as a constant intense study of the old Masters, in order to develop his skills as a horseman.
Though still a young man, Brendan has had the honor of studying under many of the greatest mentors and teachers of our time. His desire is to share the knowledge that he has gained from his personal experiences, and the wisdom of other great horseman and horsewomen with everyone that he can, in the hopes that he may make an impact on the lives of many horses and riders. Brendan seeks to follow the wisdom and principles of the Classical Masters, handed down from teachers like Nuno, Xenophon, Baucher, La Gueriniere and Phillipe Karl. Natural Horsemanship and French Classical Dressage are at the very core of Brendan's personal horsemanship.
Brendan has a passion for the proper training and conditioning and maintaining the integrity of the horse's mind and body. Though Reining has always been a passion for Brendan, more recently his heart has fallen in love with Working Equitation. For Brendan, it is the perfect practical application of Classical Dressage at its finest. He also enjoys training and perfecting the art of bridleless riding. Don1t miss the opportunity to watch one of the greatest young horsemen of our time. Come join us as we dance!