2018 Horse World Expo and Theatre Equus
A great way to order your tickets!
Don't wait in line at the show – purchase your admission tickets in advance
2018 event tickets ARE ON SALE NOW!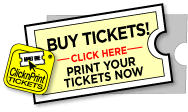 Click on the "Buy Tickets" logo to
order tickets on-line with credit card
– Secure ordering
– Choose your seat
– Print your ticket immediately
The ticket purchaser has the responsibility for safeguarding the ticket and preventing duplication by photocopying or by other means. Each ticket has a unique identifying bar code that is valid for admission into the event. The event admission process will be completed when the ticket has been electronically scanned by event staff and the ticket presenter has been admitted into the event. Following this scanning and admission process, further use of photocopied and/or duplicate tickets will not be permitted and entrance to the event will be denied, regardless of the circumstances involved.
Problems placing your ticket order online, questions about an online ticket order, have special needs seating or need to place a phone order (additional fees apply to phone orders) Call 888-695-0888 9am-10pm
All sales are final, no refunds will be given on advance ticket purchases.
General questions about the event please call 301-916-0852 or EMAIL
For groups of 20 or more, please contact our office by EMAIL to ask about group discounts for daily admission tickets only, no discounts are available for Theatre Equus tickets.
Please note, although there is no child's ticket pricing for Theatre Equus, young toddlers who can comfortably sit on a parent's lap during the performance will not need a ticket.  For those wishing to attend Theatre Equus without visiting Horse World Expo, you will not need to purchase a Horse World Expo ticket.  Separate admission tickets are required to visit Horse World Expo if you would like to attend that event.