Event Descriptions – 2017
---
Please check back in February for our 2018 EXCITING NEW event line-up
Opening Ceremonies – Large Arena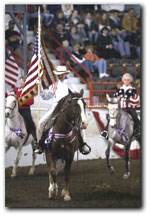 With a mix of horsemanship and patriotism, the Pennsylvania Horse World Expo will open each day with the National Anthem, flags and a thrilling display of horsemanship featuring the Barnstable Barn Burners drill team.
Thursday……..12:10 pm
Friday………….10:10 am
Saturday………..9:10 am
Sunday………….9:10 am
Trail Champions Challenge – Equine Arena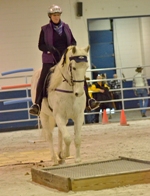 Welcome to the newest event at Horse World Expo, the Trail Champions Challenge. The Challenge will be held at both the Maryland and Pennsylvania Horse World Expos and riders may compete at one or both locations. In the Challenge, riders and their horse compete for cash and prizes by negotiating an exciting course of obstacles while being timed and scored by a panel of judges. The professionally designed course will challenge the communication and trust riders have with their horse. Watch as Horse World Expo crowns the next Trail Champion! more info
Saturday……9:00 – 12:00 noon
Sunday……..9:00 – 11:00 am
Carriage Racing Exhibition & Clinic – Large Arena
This updated event at Horse World Expo is sure to create lots of excitement. Competitors will race their teams through a course of cones and try to get the quickest time. This thrilling competition will keep you on the edge of your seat!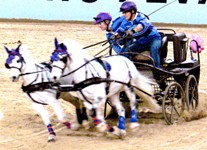 Thursday……..12:20 pm
Friday………….10:20 am
Saturday……….4:00 pm
Sunday…………9:20 am

Parade of Breeds – Equine Arena
Exciting and educational demonstrations highlighting the versatility and beauty of the equine. The Parade of Breeds demonstration will feature various breeds to be shown throughout the weekend including: Fjord, Icelandic, Friesian, Gypsy Vanner, Haflinger, Mountain Horse, Paso Fino, Rescue Horse, Thoroughbred, Tennessee Walking Horse, Spotted Saddle Horse, Cleveland Bay and Miniature Horse. See the Breed Demo Schedule so you can be sure to catch your favorite breeds in action.
For a schedule of times for each breed CLICK HERE
Equi-tainment! A Musical Equine Variety Show – Equine Arena
Come watch this entertaining segment of Horse World Expo highlighting the best of the best. Featured performances include drill teams, freestyle dressage, western dressage, tricks, bridleless riding and other exciting displays of horsemanship!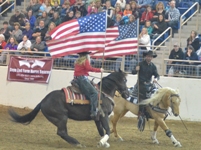 Thursday…..2:00 pm
Friday……….2:00 pm
Saturday……4:00 pm
Sunday……..2:00 pm
Stallion Avenue Demonstration – Equine Arena
Stallion Avenue features the region's top stallions. A variety of breeds will be represented. Each stallion will be shown in the arena each day.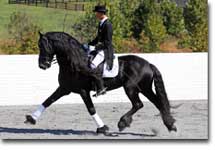 Thursday….4:00 pm
Friday………1:00 pm
Saturday…..3:00 pm
Sunday……11:00 am
For a schedule of times for each stallion CLICK HERE
PA's Thoroughbred Makeover Rematch – Equine Arena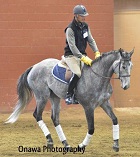 Four of the most impressive Thoroughbred ex-racehorses in Pennsylvania will appear with their riders before a panel of celebrity judges to compete for the title of Pennsylvania's Most Wanted Thoroughbred. They will be judged on both the quality of their performances and the nature of the journeys that brought them from racing to where they are today. They will be competing for a cash prize of $500 and represent four different riding disciplines. Applications for participation in the contest are being solicited and reviewed by Retired Racehorse Project on their website at RetiredRacehorseProject.org
Steuart Pittman of Dodon Farm Training Center and RRP will lead special sessions all weekend exploring the various methods used by trainers to select and train Thoroughbred ex-racehorses for second careers.
Saturday…..3:00 pm
Please visit our Speaker Info and Biographies page for Lecture information.